Punters Club Rules
03 December 2023 08:36 AM
When we developed PuntersClubHero.com we focused on functionality that was flexible enough to support a range of punters club rules which punters across Australia use amongst their mates. With so many different rules currently in use by Punters Clubs today we were focused on designing our on-line punters club website so that it covers most of these requirements. We have future PuntersClubHero.com releases planned that will cover even more rule requirements but for now here are some examples of rules that Australian punters clubs set at PuntersClubHero.com today.
Standard Rules
The most popular punters club rules set in Australia involves club members each having a betting turn and maintaining 'the strike' only if they make a profit. Betting members only bet again if they return more money from their bets than they outlay. Clubs typically set their round periods at one week rather than one day. Most clubs do not restrict their member's bet types or betting events, however there are exceptions which we look at later in this article.
Betting turn rules can be set so that betting turns change after a period regardless of betting performance in a round. Club's that use this approach, do so because it gives even betting exposure for all members.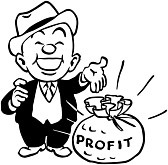 Big Profit Rules
Some punters who have big goals for their clubs, like lavish overseas trips or significant shares in race horses, see rules that incentivise punters making just a profit as a little boring. They are concerned that too many punters will focus on achieving a profit and bet conservatively. Too many odds on bets and not enough bets with greater scope for bigger profits. Clubs manage this challenge by increasing profit requirements, driving club members towards horses at longer odds, or for sports events, towards multis rather than head-to-head or line bets.
Wild Card Rules
If Big Profit Rules don't go far enough then Clubs may use a Wild Card punter. Wild Card rules introduce a second betting member into a round who must bet on a horse, multi or event that yields $10 or more per dollar bet. Hurdle rates and betting amounts allocated to Wild Card punters differ between clubs depending on their appetite.
NRL and AFL Club Rules
More and more NRL and AFL tipping competitions are looking for something more interesting and exciting during Footy Season. Some competitions are starting fantasy leagues where competitors become coach and acquisition manager for their own footy team, but it's not for everyone. Many fantasy players struggle to make time to do player analysis which is necessary to remain competitive.
The fastest growing alternative to tipping competitions in Australia is a Footy Punters Club, offering members an opportunity to leverage off smart tipsters within their competition by taking a share in club bets placed on their tips. Feedback received from some tipping competitions that have transitioned to punters clubs at PuntersClubHero.com show some initial concern towards the higher up-front cash outlay required for punters clubs. Rather than say $2 per week, members are depositing at least $10 a week at a minimum. Our statistics have shown, however, that over a season most club members are better off because their share of returns from clubs dedicated to NRL and AFL fixtures are a few percentage points under the money they outlayed on average. For some clubs that means members made a reasonable profit, while others either broke even or made a modest loss.
Spring Carnival Club Rules
The Melbourne Cup Spring Carnival is another great excuse for punters starting a club with their mates. Besides enhancing the experience of Spring Carnival racing festivities, it gives less learned punters an opportunity to share and benefit from their mates horse racing tips. For many punters joining a Spring Carnival Club, the Club goal is not as significant as the added benefit of betting with your mates during one exciting Spring Carnival time.