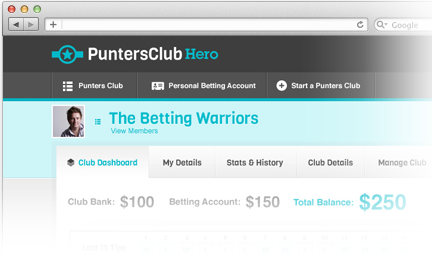 The punters club dashboard displays your club's betting performance, savings and the personal performances of each club member. Your club's statistics include clear detailed statements that tell you where every dollar of your Punter's Club's money is sitting at any time.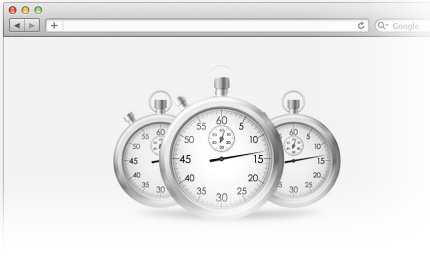 It's quick and easy to start your own punters club online. Invite your mates, or set them up in your club if they don't have Internet access and start betting towards your goal. Members are informed of: whose turn it is to bet, bet details as soon as they are placed, results and more. There's also a club chat wall for all your club's banter.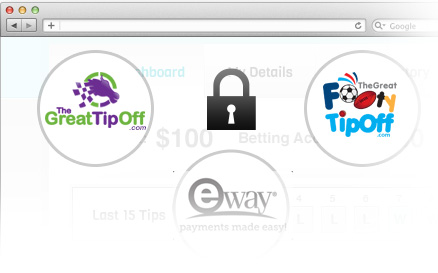 Punters Club Hero is brought to you by The Great Tip Off Pty Ltd, who have been serving the online sports and racing industry with some of the most innovative and secure online entertainment since 2009. Sites include racing tips website theGreatTipOff.com and footy tipping website theGreatFootyTipOff.com. All transactions on this site use one of the most trusted online transaction gateways available, eWay. We do not store credit card details.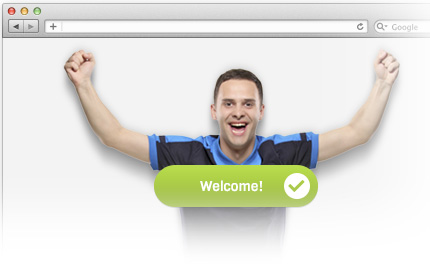 If your mates miss your punters club start date they can still join at a later time. A detailed history of payments & betting returns ensures all club members know exactly what their share of the club bank is at any time.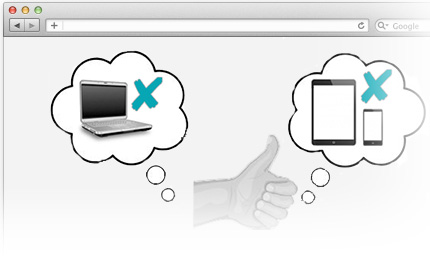 Mates who don't'have access'to the Internet can also join your club. Club Managers set-up offline members club updates are communicated to offline members through printed Club performance reports.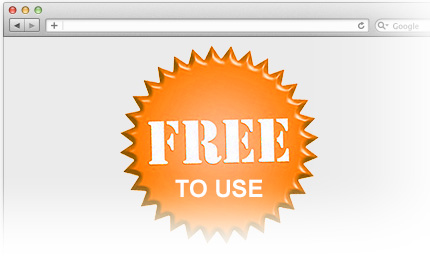 It's free to use PuntersClubHero.com. There are no fees for using the site.


#1

Titsguts

Betting Since: 28 March 2020 Members: 0

ROI:

1,035%

#2

Teabaggers

Betting Since: 02 March 2016 Members: 2

ROI:

467%

#3

Brothers Lampoons Vegas Vacation

Betting Since: 02 July 2020 Members: 2

ROI:

457%

#1

Henry

KPFU BETS

Betting Since: 21 July 2021

ROI:

474%

#2

Cris

Muppets United

Betting Since: 28 April 2020

ROI:

413%

#3

ADAM

Southern Stooges

Betting Since: 09 February 2023

ROI:

412%

#4

Dave

HICAUREC

Betting Since: 28 July 2021

ROI:

406%

#5

Rachael

Crappiest Punters Club

Betting Since: 18 February 2023

ROI:

403%