Start your Punters Club at PuntersClubHero.com and receive at least one Odds Boost every day for bets placed through your club.
Online punters clubs are the new and easy way to manage your own punters club without any of the hassle that you're used to when managing your club off-line.
It takes a few minutes to start your punters club online at PuntersClubHero.com. Enter a few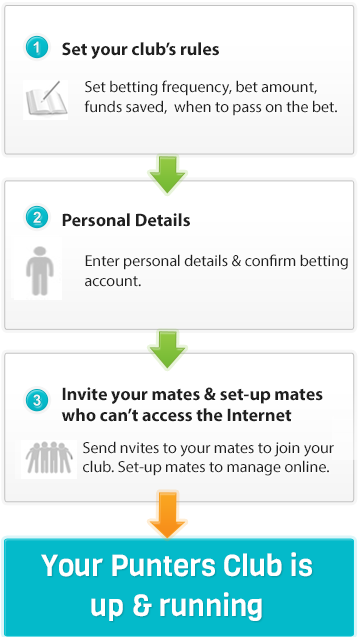 details, your club rules and send invitations to your mates and then everything is done for you including setting-up Ladbrokes accounts for you and your members.
Get more information about how PuntersClubHero.com automates everything for you as a fully integrated Ladbrokes betting platform.
See how punters clubs work at PuntersClubHero here or you can check-out the frequently asked questions about starting your Punters Club here.
There are loads of benefits when playing online at PuntersClubHero.com:
eliminate manual work that is usally required to manage your club,
make it easy for you and your members to receive information about bets, results and your member's betting performance;
your club receives a matched first deposit into the your club account; and
new Ladbrokes members joining through this site receive a matched first deposit bonus into their personal betting accounts of up to $500.
You and your members receive great benefits by betting through Ladbrokes. Here are just a few:
Ladbrokes Odds Boost - receive at least one boost on your bets daily. You can also boost odds on multi's.
Info Hub - get an insight into betting information that only the bookies usually see. See where the money is going, odds fluctuations, and key statistics for sports and racing.
Cash-in - deposit cash into your Ladbrokes betting account at one of the hundreds of news agents across Australia.
Cash-out of your punters club account into your Ladbrokes Card where you can pay for anything where EFTPOS is supported.
PuntersClubHero.com and Ladbrokes work closely together to provide you with timely customer support either through email or via telephone.
Get your club started in a few minutes today here.
For any questions that you have about how punters clubs work at PuntersClubHero.com please contact us here for a speedy response.